European Union leaders reached an agreement on migration after almost 10 hours of chaotic talks in Brussels over the sensitive issue threatening their union and zone of free travel, as well as German Chancellor Angela Merkel's government.
"EU28 leaders have agreed on (summit) conclusions, including on migration," the chairman of the talks, Donald Tusk, said.
Italy had earlier blocked any agreement at the summit — which was also about trade and security, among other things — unless EU peers met its demands over migration.
As per the agreement, the European Council reconfirms that a precondition for a functioning EU policy relies on a comprehensive approach to migration which combines more effective control of the EU's external borders… This is a challenge not only for a single Member State, but for Europe as a whole.
The European Council is determined to prevent a return to the uncontrolled flows of 2015 and to further stem illegal migration on all existing and emerging routes.
As regards the Central Mediterranean Route, efforts to stop smugglers operating out of Libya or elsewhere should be further intensified. The EU will continue to stand by Italy and other frontline Member States in this respect.
As regards the Eastern Mediterranean Route, additional efforts are needed to fully implement the EU-Turkey Statement, prevent new crossings from Turkey and bring the flows to a halt… More efforts are urgently needed to ensure swift returns and prevent the development of new sea or land routes… In the light of the recent increase in flows in the Western Mediterranean, the EU will support, financially and otherwise, all efforts by Member States, especially Spain, and countries of origin and transit, in particular Morocco, to prevent illegal migration.
To break the business model of the smugglers, thus preventing tragic loss of life, it is necessary to eliminate the incentive to embark on perilous journeys. This requires a new approach based on shared or complementary actions among the Member States to the disembarkation of those who are saved in Search And Rescue operations. In that context, the European Council calls on the Council and the Commission to swiftly explore the concept of regional disembarkation platforms, in close cooperation with relevant third countries as well as UNHCR and IOM. Such platforms should operate distinguishing individual situations, in full respect of international law and without creating a pull factor.
On EU territory, those who are saved, according to international law, should be taken charge of, on the basis of a shared effort, through the transfer in controlled centres set up in Member States, only on a voluntary basis, where rapid and secure processing would allow, with full EU support, to distinguish between irregular migrants, who will be returned, and those in need of international protection, for whom the principle of solidarity would apply. All the measures in the context of these controlled centres, including relocation and resettlement, will be on a voluntary basis, without prejudice to the Dublin reform.
The European Council agrees on launching the second tranche of the Facility for Refugees in Turkey and at the same time on transferring 500 million euro from the 11th EDF reserve to the EU Trust Fund for Africa.
Tackling the migration problem at its core requires a partnership with Africa aiming at a substantial socio-economic transformation of the African continent…
In the context of the next Multiannual Financial Framework, the European Council underlines the need for flexible instruments, allowing for fast disbursement, to combat illegal migration. The internal security, integrated border management, asylum and migration funds should therefore include dedicated, significant components for external migration management.
The European Council recalls the need for Member States to ensure the effective control of the EU's external borders with EU financial and material support. It also underlines the necessity to significantly step up the effective return of irregular migrants.
On concerning the situation internally in the EU, secondary movements of asylum seekers between Member States risk jeopardising the integrity of the Common European Asylum System and the Schengen acquis. Member States should take all necessary internal legislative and administrative measures to counter such movements and to closely cooperate amongst each other to that end.
As regards the reform for a new Common European Asylum System, much progress has been achieved. A consensus needs to be found on the Dublin Regulation to reform it based on a balance of responsibility and solidarity, taking into account the persons disembarked following Search And Rescue operations.
Media agencies
v In the southern region analysed, only MLAs of Kerala has spent more than 50 % of the expenditure limit.
v Among the Southern States which have gone for elections in the last 5 years (2013-2018), it has been observed that MLAs have spent the most on the vehicles used for campaign. They have spent only 8% on the campaigning through print and electronic media.
Analysis on the basis of Vote Share
v
​​
None of the political parties/ alliances of political parties forming the government have won with more than 50% of vote share
v Among these, Andhra Pradesh has the highest vote share by an elected government i.e. 49.9% while Telangana has the lowest i.e. 43.3 %.
Analysis on the basis of cases related to Electoral Malpractices
v Out of 1356 MLAs all over India with declared criminal cases, 128 have declared cases related to electoral malpractices such as bribery (171E), undue influence or personation at an election (171F and 171 C), illegal payments in connection with elections (171 H) etc.
v Out of these 128 MLAs, 44(34%) are from the Southern region.
v Among these 44 MLAs, 20 are from Karnataka, 11 from Tamil Nadu, 6 from Telangana, 5 from Andhra Pradesh and 2 from Puducherry.
v 41(93%) out these 44 MLAs have won with more than 40% of vote share in their respective constituencies.
​​
Contact Details
National Election Watch/Association for Democratic Reforms
Media and Journalist Helpline




Maj.Gen. Anil Verma (Retd)

Association for Democratic Reforms

National Election Watch, Association for Democratic




Association for Democratic Reforms



Andhra Pradesh and Telangana Election Watch
| | | |
| --- | --- | --- |
| Association for Democratic Reforms | | |
Puducherry Election Watch
Tamil Nadu Election Watch
—
Association for Democratic Reforms
T-95, C.L. House, 2nd Floor,
(Near Gulmohar Commercial Complex)
Gautam Nagar
New Delhi-110 049
"
Banking Baithak
with a Special Focus on Fintech's
'
(Friday, 29

th

June 2018, 3:30 pm at PHD House, New Delhi)
We are pleased to inform you that the Banking and Financial Services Committee of PHD Chamber (PHD) is organizing a
"
Banking Baithak
with a Special Focus on Fintech's
'on
Friday, 29

th

June 2018, 3:30 pm at PHD House
, New Delhi,followed by Hi tea.
The
Banking Baithak
would be a platform where Banks will appraise SMEs and other industry members about key relationship between a bank and a Fintech. During the session members and participants can also discuss and resolve their issues with the banks, if any.
The Session will have Senior members from various banks to meet and interact with industry members, SMEs and Startups.
OUR REQUEST
I am writing to cordially invite you and your colleagues to attend this important 'Banking Baithak
with a Special Focus on Fintech's
" an interactive session with bankers.
In case you are not able to attend due to prior-commitments, I request you to kindly nominate a senior colleague to attend this important session on your behalf. Please fill the following details for us to register you.
Since the seats are LIMITED & prior registration is MANDATORY,
your early response shall be highly appreciated & is expected to reach us by orbefore Monday

,

the 25

th

June 2018.
Britain's Queen Elizabeth granted royal assent to Prime Minister Theresa May's flagship Brexit legislation today, ending months of debate over the legislation that will formally end the country's European Union membership.
The House of Commons speaker John Bercow said the EU withdrawal bill, passed by both houses of parliament last week, has been signed into law by the monarch, to cheers from Conservative lawmakers.
The EU (Withdrawal) Bill repeals the 1972 European Communities Act through which Britain became a member, and transfers decades of European law onto British statute books in a bid to avoid any legal disruption.
Football is more than just a popular sport in many societies. Regardless of origin, social class or skin colour, if there is any sport that can give one a sense of identity and belonging, it is this one. It doesn't matter if it is played with proper ball or a recycled bottle; when a player scores, everyone shouts "GOAL" with the same level of emotion!
Football is not only entertainment that moves the masses: it is a game that awakens passions and contrasts all around the world. The FIFA World Cup is the best example — for weeks the whole world turns its attention to the games. But we rarely think about the fact that the vast majority of players on the filed are migrants in their professional careers.
In the Mesoamerican region, the national teams of Mexico, Costa Rica, and Panama are participating in the 2018 World Cup. Of the 69 players representing these three teams, 46 are migrants. FIFA 2017 statistics revealed that 55% of players belonged to a club outside their country of citizenship. More than 90% of the players of the national teams of Colombia, Belgium, Ireland, Sweden and Switzerland played for a club abroad and of the 100 best players in 2017, 72 were migrants.
Seeing the sport through this perspective can inform a more comprehensive and less stereotyped view of migration. Migration enriches our societies; soccer is an example of this. How many times have the Spaniards of Barcelona celebrated a goal thanks to an Argentine players? How many Costa Ricans questioned who scored in Brazil 2014 was born in Nicaragua? How many times has football helped us stop seeing labels
In spite of the fact that racism and xenophobia have taken place in soccer contexts, it's better to think of it as a tool to unite and not an occasion to discriminate. As something that aids in integration of people and the creation of links with the communities, football is a platform for promoting human rights. Common interests and values can be shared through sport by encouraging intercultural dialogue and strengthening tolerance among players and fans.
With nearly 1.2 millions schools and 40% of India population are in the bracket of child and with 480 million internet users, India represents m the second largets online group after China and over 28 millions of these users are school-going children.School going are considered to be in the highest risk category due to a combination of increased internet access and low personal resilience with parents and children lacking the knowledge to protest themselves against cyber threats.
With spread of ICTs,online risk to children the seminar is arranged by NCPCR, UNICEF,UNODC,Cyber Peace for day to deliberate on robust preventive mechanism are put in place in presence of Mr Eric Falt Director UNESCO, Ms Stuti Kacker Chairperson NCPCR, Ms Suruchi Pant, Dy Rep,UNODC and Chief Guest Dr Gulshan Rai, Chief Information security office PM's office, GOI.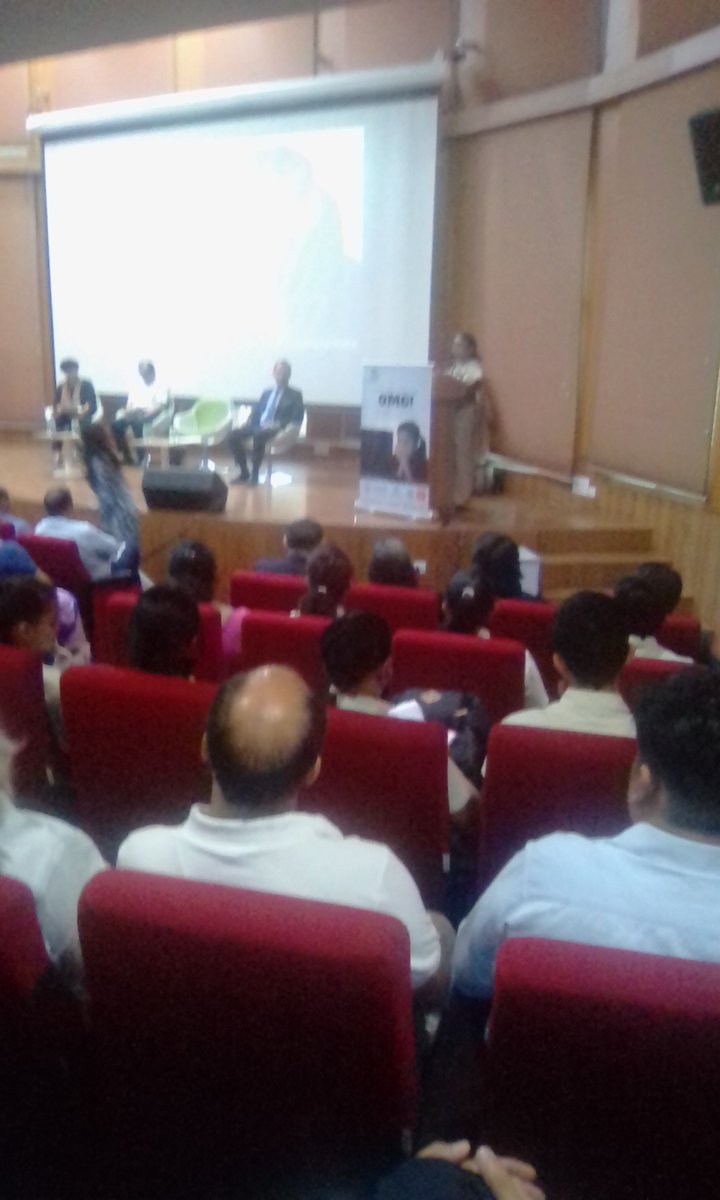 OMG at UNESCO Auditorium National Child commission Ms Stuti Kackar speak at Inaugural address