Delhi Deputy CM Manish Sisodia, on hunger strike at LG's office since June 13, taken to hospital, tweets CM Arvind Kejriwal.
Sisodia is being taken to the LNGP hospital after his ketone level reached 7.4. He has been on an indefinite hunger strike for the past seven days at the LG's residence against the alleged strike by the IAS officers of Delhi government.
A day earlier, Health Minister Satyendar Jain was admitted after his sugar levels dipped. Both the ministers along side Chief Minister Arvind Kejriwal have been holding a sit-in at the LG office demanding that Baijal direct IAS officers to end their "strike". They also demand that the Lt Governor approve the proposal for doorstep delivery of ration.
Further about the AAP style of sit on dharna in office of LG of Delhi, Delhi High Court today asked the AAP government, who authorised the sit-in by Delhi Chief Minister Arvind Kejriwal and some of his cabinet colleagues at the lieutenant governor's office, and observed that strikes are usually held outside an establishment or office and not inside.
The observation by a bench of Justices A K Chawla and Navin Chawla came during the hearing of two petitions, one against the sit-in by Aam Aadmi Party leader Kejriwal and the other against the alleged strike by the IAS officers of Delhi government.
"Who authorised the strike/dharna (sit-in by Kejriwal)? You are sitting inside the LG's office. If it's a strike, it has to be outside the office," the court told lawyers appearing for the Delhi government in the two matters. Apart from the two petitions, a separate plea was moved by Leader of Opposition in the Delhi assembly Vijender Gupta against the sit-in by Kejriwal at Lt Governor Anil Baijal's office.
The AAP says Delhi CM Kejriwal will continue his strike till IAS officers end their strike.
The matters are likely to be heard on June 22. The court said the association representing the IAS officers should also be made a party in the matter. — PTI

Development veteran and former head of UK's Ebola Task Force joins IFAD as Associate Vice-President
Rome, 18 June 2018 –
Donal Brown of the United Kingdom has joined the International Fund for Agricultural Development (IFAD) as Associate Vice-President of the Programme Management Department.
In his role at IFAD, Brown is responsible for developing and managing the operations that the Fund supports through its loans and grants. In addition, he oversees the programme of work of the department, which is undertaken by five regional divisions and the Operational Policy and Results Division.
Brown previously worked at the UK's Department for International Development in a number of senior positions both at headquarters and in a range of countries. Most recently Brown was the Africa Director, managing 550 staff across the continent. In 2014-2015, he led UK's Ebola Task Force in Sierra Leone and was awarded Commander of the Most Excellent Order of the British Empire for his efforts to control the crisis.
Until the outbreak of Ebola in May 2014, Sierra Leone, a country of 7 million people on the West African seaboard, had one of the highest economic growth rates in the world. IFAD, a specialized agency of the United Nations, supported the government in its fight against the Ebola outbreak and during the aftermath. As the largest and most active donor in the country's agricultural sector, IFAD continues to contribute to Sierra Leone's recovery, in particular to establish food security which is vital to health.
Brown brings to IFAD more than 25 years of international experience from across Africa, the Middle East, Asia and Latin America. He holds a Master's degree in Tropical Animal Health and Production from the University of Edinburgh, a Postgraduate Diploma in Public Leadership and Management from the University of Warwick and a Bachelor's degree in Veterinary Science from the University of Bristol, as well as an Honorary Doctorate in Social Justice from the University of Winchester.
Sagar Media Inc: 5th National Standard Conclave begins at Taj Mahal Hotel New Delhi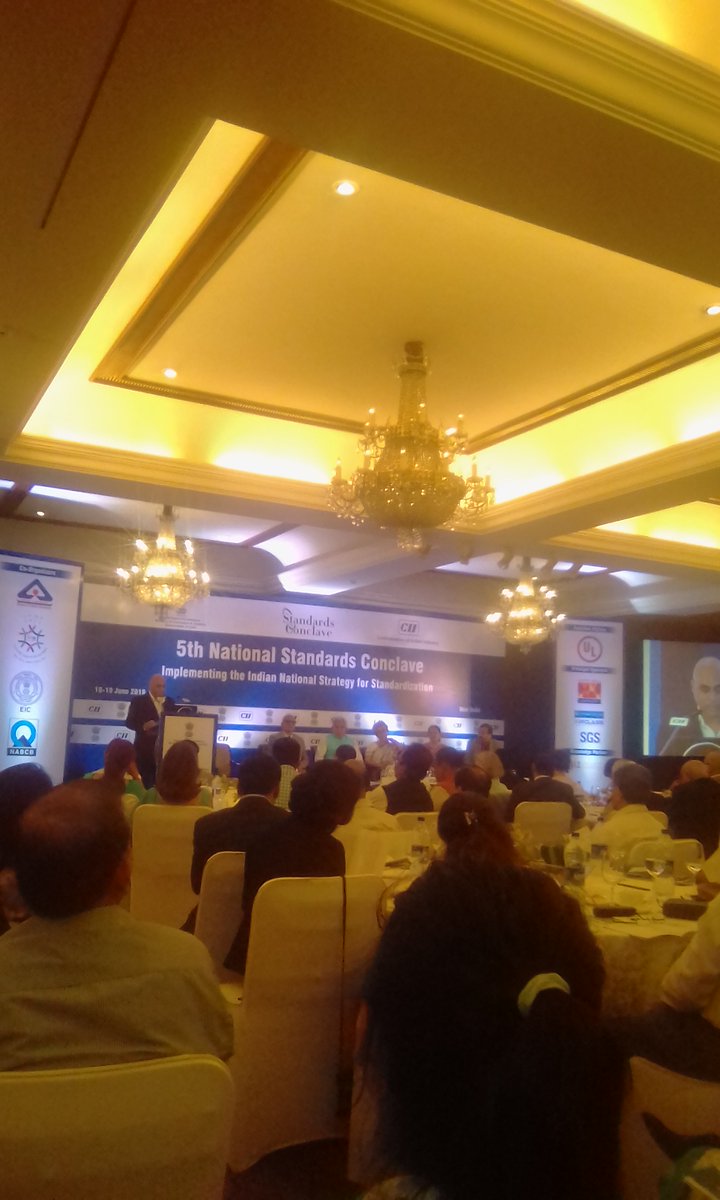 Shri Rajiv Gauba,
Home Secretary,
Government of India.
Police Stations – Dens of Hard Core Criminals, Mastermind Crimes
Dear Sir, A study carried in TOI of June13, 2018 on page reports India suffer 9% GDP Loss due to Crimes, Wars and Terrors which is Rs.15,00,000 Cr Loss annually,Rs.60,00,000 Cr or $1 Trillion in last 4 years.
These Loss Realistic – 25m Court Cases are Pending means 20% Households are IMPACTED by Court Cases – Many times more cases are not reported. Even 50% to 90% RAPE Cases are either Not Reported to Police or Compromised.
80% of Crimes are Partnered by SHOs of Police Stations and in 95% of cases Police Write DEFECTIVE FIRs or DON'T PROTECT VICTIMS OF CRIME & BREED CRIMINALS.
Even matters of Crimes against State and Serial Crimes like Rape, Murder, Cheating, Kidnapping, Extortions, HAFTA cases, Honey Trap, Bootlegging, Smuggling, Drug Peddling, Matrimonial Fraud, Electronic Frauds, Thefts of All Kinds, Forgeries, Ponzy Schemes, Chit Funds, Gambling, Illegal Occupation & Sale of Public Property, Land Grabs, Prostitution, Human Trafficking, Kidnappings, Contract Killers.
SHOs are Expected to CHECK THEM ALL but take Share of Illegal Activities write DEFECTIVE FIRs in case matters go beyond their control. In Delhi street DP is not seen at all – CCTV Cameras installed by Police are Disabled.
SLP 28441 of 2008 in the Supreme Court: – a Poor Farmer entered in to Agreement or Exchange Deal with a Businessman involving Exchange of 2.5 Acres of Farm Land in Gurdaspur Punjab for 5 Acres in Uttarkhand in 1998. While Businessman Took Over Farmers land but Farmer couldn't get 5 Acres because the property documents were FAKE. SHO didn't registered CHEATING Case and CIVIL case lingered on even as there were Seasonal Fights every year between the Parties – say 50 times in 12 years.
PALDI GUJARAT Case: – For a Loan of Rs.9 Lakh – a Person over 2-3 years was SERIALLY TORTURED BY MONEYLENDER – who took away Rs.58 Lakh to perhaps over Rs.1 Cr.
Smart SHO in above cases, 95% cases would have PROVIDED 100% Protection to the Victim within 10 minutes of Receiving Complaint – Write an FIR without delay.
'VIGILANCE POLICE 10% OF FORCE' BE INTRODUCED TO INDEPENDANTLY MONITOR SHOs, MEET COMPLAINANTS 9-11AM DAILY, PUNISH CORRUPT SHOs, WRITE FIRs ON Investigation Officers reporting in CONSULTATION WITH VICTIMS. SHOs should be WORKING in STREETS PREVENTING CRIMES.
Ravinder Singh, Inventor & Consultant,
INNOVATIVE TECHNOLOGIES AND PROJECTS
Y-77, Hauz Khas, ND -110016, India. Ph: 091-
8826415770
, 9871056471, 9650421857
Ravinder Singh* is a WIPO awarded inventor specializing in Power, Transportation,
Smart Cities, Water, Energy Saving, Agriculture, Manufacturing, Technologies and Projects
Obama Foundation
Hi everyone —

I guess you could say it started with Iron Man.

Nearly ten years ago, my son Izaac's preschool class was going on a field trip and my wife and I were packing him a lunch. She asked me if I wanted to write his name on his lunch bag.

It occurred to me that even though I was an artist, my kids never got to see their dad draw. If I wanted to encourage my kids to be proud of their own gifts and use them in their own lives, I needed to start setting an example for them. So, I sat down and put Izaac's name on his bag — along with a quick sketch of Iron Man.

When he saw the bag, the beaming smile on his face alone affirmed the decision. But I knew I had more to give my kids than just a five-minute sketch.

I began to put a little more time into their lunch bags. The night before, I'd sit down with my color pencils for an hour or so — and I'd just draw:
We are pleased to invite you to the inauguration of an exhibition titled "The Parliamentary Tradition in Poland and Hungary and Celebrating the End of the First World War" presented jointly by Polish Institute in New Delhi and Hungarian Information and Cultural Centre, New Delhi on Tuesday, 19th June, 2018 at 6:30 pm at the Art Gallery, IIC Annexe.
Greece and Macedonia on Sunday signed a historic preliminary agreement to rename the country the Republic of North Macedonia, ending a row that has poisoned relations between the two neighbours since 1991.
"This is a brave, historic and necessary step for our peoples," said Greek Prime Minister Alexis Tsipras.
"We are here to heal the wounds of time, to open a path for peace, fraternisation and growth for our countries, the Balkans, and Europe," he said.
"Our two countries should step out of the past and look to the future," said Macedonia Prime Minister Zoran Zaev.
"Our peoples want peace… we will be partners and allies," he said.
The accord begins to unravel one of the world´s longest — and arguably most arcane — diplomatic disputes, which began 27 years ago with Macedonia´s declaration of independence but whose roots date back centuries.
"The time has come again to sing happy songs in the Balkans," Tsipras said, moments before the document was signed by the two countries´ foreign ministers.
Zaev and several of his ministers arrived by speedboat at the picturesque fishing village of Psarades under a sunny sky, on the southern bank of Lake Prespa that is one of the natural boundaries between the two countries.
Tsipras and Zaev embraced on the village dock and entered the large tent where the deal was signed to a standing ovation from gathered dignataries and officials.
UN under-secretary-general for political affairs Rosemary DiCarlo, longterm UN negotiator Matthew Nimetz, EU diplomatic chief Federica Mogherini and EU enlargement commissioner Johannes Hahn were at hand.
Nimetz, who turned 79 on Sunday and also signed Sunday´s agreement, had been trying to broker a solution since 1994, first as a US envoy and subsequently on behalf of the United Nations.
But it was the election of Zaev in 2017, replacing nationalist PM Nikola Gruevski, that proved crucial.
An economist and former mayor of Strumica, Zaev made rapprochement with Greece a priority to secure his country´s membership of the European Union and NATO, blocked by Athens for years.
After the signature, Tsipras will cross over to the Macedonian side of Lake Prespa for lunch, becoming the first Greek prime minister to visit the neighbouring state.
Since 1991, Athens has objected to its neighbour being called Macedonia because it has its own northern province of the same name, which in ancient times was the cradle of Alexander the Great´s empire — a source of intense pride for modern-day Greeks.
The two premiers, born just months apart in 1974, have bucked strong hostile reactions at home to push ahead with the agreement.
Apps to look at to stay connected with your favourite team during FIFA World Cup!
With the commencement of much awaited FIFA world cup 2018, fans all over the world are excited to stay connected with their favourite sport. There are various companies and start-ups that are bringing innovative apps to enhance the experience of the FIFA enthusiasts. Companies are offering unique services like live streaming of the match, live match prediction, social feed, chat forums, etc in order to engage fans during the live matches.
The following apps help fans to stay tuned with their favourite team during the series and in turn bringing fans and sports closer.
Official FIFA App –

This is the official app of FIFA which provides fans with all the information and updates of the live match. The app is available on both Android and iOS to allow users to share the complete schedule of the match with the details of participating teams, live scores, and minute to minute description of the match, etc.
Rooter –

Rooter is the world's first sports social gaming platform that connects sports fans and engages them during live sports matches. Rooter offers unique Live match prediction game, Live Fantasy Game and Sports Social Feed across 8 sports and enables a live chat forum where fans interact during live matches with fastest live scores and commentary. The company has geared up for FIFA world cup as well in order to provide a seamless mix of gaming, conversations, and Live scores during the series.
One Football –

One football app keeps the fans updated with all the latest happenings around the world cup. It provides all the information to their fans to remain top of the game like live score, news, highlights, stats, etc. The app also helps users to make the personalised content based on their favourite team and player.
Jio TV App –

Jio TV by Reliance will live stream all FIFA World Cup 2018 matches starting from June 14 for free. You need to be on the Jio network, to be able to live stream FIFA World Cup 2018 matches as the JioTV app is exclusive to Jio users.
Airtel TV App –

Bharti Airtel has rolled out an updated Airtel TV app, to enable users to watch live broadcasts of the upcoming football tournament. The app will help users to stay tuned in regional languages in addition to Hindi and English. The app will also provide fans to with exclusive behind the scenes snippets and match reviews and previews, etc.
Young female footballers of AP's Anantapur Football League train with Real Betis captain Irene Guerrero at a three-day camp
The LaLiga Foundation andRural Development Trust-Vicente Ferrer Foundation in India work for the upliftment of children in rural regions
Mumbai, Thursday, June 15, 2018:
As part of LaLiga's commitment to promote grassroot football in India, the LaLiga Foundation invited Real Betis women team captain Irene Guerrero to conduct a three-day interactive clinic for young female players and coaches of the region's Rural Football League in Andhra Pradesh's Anantapur district. The sessions were attended by close to 500 footballers and coaches from 20 mandals. This is the first time an international woman footballer has visited Anantapur.
On her three-day tour, Guerrero played with the female footballers at various grassroots centres and interacted with them in a fun, relaxed environment. Guerrero, along with officials from LaLiga also distributed training equipment to footballers from the 20 mandals in Anantapur.
Earlier this year through a series of videos, coaches from different football clubs in Spain took the girls throughvarious training methods and shared invaluable tips, while promoting the virtues of playing sport, as well as empowering women to achieve and succeed.
The LaLiga Foundation and LaLiga's women's football department have signed an agreement with the Rural Development Trust in India, known in Spain as Vicente Ferrer Foundation, with the aim of developing football in the most deprived communities of Anantapur. This will be achieved by establishing conditions in which both individual and collective talent will flourish in India. Through this joint initiative, nearly 2,000 girls and boys between the ages of 9 and 19 will get an opportunity to play sport. Apart from sport, the joint initiative will help instil discipline, self-belief and team spirit in the youngsters, qualities that will help them outside a football field as well.
Commenting on the occasion
Mr. Jose Antonio Cachaza, Country Manager India, LaLiga
said, "Our support to Rural Development Trust's women's football programme is about helping shape the lives of thousands of girls from 20 mandals in Anantapur through football. LaLiga is the best league in the world with some of the greatest players and teams, but we also take our responsibilities at grassroots level seriously, LaLiga is committed to the children of Anantapur. We have seen Jorge Lorenzo and Rafael Nadal extend their support to the Foundation in the past and we are extremely pleased to carry forward the legacy."
"As professional player, I believe it is our responsibility to support the development of young talent," said the
Real Betis captain Irene Guerrero
. "The initiative by LaLiga Foundation will fuel the passion of young players in Anantapur and build skills that will help them become the stars of tomorrow. Having fun is the most important factor in their development, but meeting a professional reminds kids that we are just ordinary people and that with hard work and dedication they too can forge a career in the game."
The Anantapur Football League (AFL) is a rural grassroots competition that was founded in 2014/15 season conducted by the Anantapur Sports Academy. The academy is a sport for development initiative by the Rural Development Trust. Since its formation, the AFL has grown in size, expanding both its number of divisions and youth teams.
"Through this partnership, we will be able to bring football closer to girls and boys, in the rural regions of Anantapur, Andhra Pradesh. Every child has the 'Right to Play' and we are committed to providing children with the opportunity to participate and enjoy the benefits of playing sports," said
Moncho Ferrer, Program Director of the Rural Development Trust
.
About LaLiga
Founded in 1984, LaLiga (Liga de Fútbol Profesional) is a sports association comprising the 42 teams that make up the first and second divisions of professional football in Spain. LaLiga, based in Madrid, is responsible for the LaLiga Santander and LaLiga 123 leagues and the television production, which in the 2016/2017 season reached more than 2.5 billion people globally. The association also has an active foundation and is the only world's only professional football league with a league for intellectually challenged footballers: LaLiga Genuine.
DMA asks Delhi Govt to START HELPLINE TO REPORT ELDER ABUSE AND SET UP ELDER ABUSE CELL in Min of Welfare with a Nodal Officer
15-June is observed as World Elder Abuse Awareness Day, this year the theme is " MOVING FROM AWARENESS TO ACTION-Through a Human Rights Approach".
According to the report published by HelpAge India Delhi figures amongst the top five cities in prevalence of elder abuse, though the incidence is as high as 32% of this 77% did not report the matter to anyone and only .5% took the support of the Mainatainence and Welfare of Parents and Sr. Citizens Act. All these figures are alarming and reflect lack of awareness of their rights by the elders and an absence of a supportive reporting mechanism.
Dr. Ashwani Goyal President, Delhi Medical Association, called a special meeting on this issue and said that DMA has taken up this issue very seriously amongst it membership, sensitizing them as possible 'first responders' against abuse by their patients. Presently the only possible platform for reporting of abuse is to friends/ neighbours or distant relatives. This fortnight edition of the news bulletin carries full information on this issue, compiled by Dr.G.S.Grewal, Hon State Secretary.
DMA calls upon the Govt of Delhi to
1.
Call for a meeting of the possible 'FIRST RESPONDERS'-which may include representatives of the Medical Associations, Community leaders, Office bearers of RWA, MWA, Elder Organisations, this to create awareness, announce the seriousness and commitment of the Govt to address the issue of Elder Abuse
2.
Start a HELPLINE for reporting elder abuse
3.
Constitute assembly wise community and police teams under Chairmanship of the MLA to create awareness and encourage reporting of abuse
4.
Create a CELL in Min. of Welfare with a Nodal Officer for ELDER ABUSE CELL For Reporting & Prevention